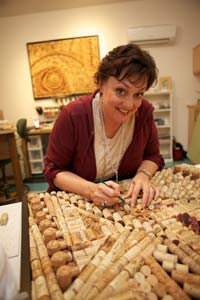 Artist Beki Morris creates three dimensional wine cork art, using wine and champagne corks from all over the world.  Her custom art adorns the walls of exclusive homes, restaurants, wine bars and offices.  Every gorgeous piece of wine cork art begins with a creative vision.  Once that vision has been translated from sketch paper, the basic outline is re-created by hand on the art board where the corks will be applied.
Creating each cork piece is a 4 to 6 week endeavor.  Every cork is carefully selected for its size and color for each placement.  Each custom piece offers a unique three dimensional design. The corks are laid at varied angles to achieve the texture and impact that is desired.  The height and expanded top of the champagne corks are used as design elements as well as the label of each cork. The red ended corks are cut and used for accent.
Choose from Beki's collection or have a custom piece commissioned for a particular space.  Every piece of wine cork art is compelling because of its depth and intricacy.   They can be commissioned to fit any space.  Client corks can be used if desired.